We will collaborate with your architect, engineer, or consultant to transform your custom ideas into a reality. Detail, function, and design are top-notch. Combines old world craftsmanship with the latest technologies.
The benefits of working with Simply OEM on your stainless steel requirements include valuable product development, purchasing direct from factory, and world class engineering.
For over 23 years, Simply OEM has been establishing relationships with key QSR chains around the world to bring them a consistent high-quality, long-lasting stainless steel product. Through ingenuity to modularise stainless steel where practical, we developed product to their requirements.
This experience in modularising the product provides customers with a simple to install, simple to warehouse and simple to assemble product resulting in cost savings through the entire process. Where services are required to be installed in the product, all allowances are made during the design phase. This ensures that when the product arrives onsite, it's straightforward for the contractor to fit off plumbing and/or electrical components. All aspects of offshore supply have been carefully considered.
Our Capability:
Full Shop Drawing Capability
Client Relationship management
Design to final supply collaboration
Full-time warranty & backup
Exceptional quality, availability, & value
The Simply Advantage:
International quality control standards
Design contribution based off of 25 years' experience
Significant cost savings
Australian owned and operated
Reduced speed to market and stock holding capabilities
Capability to re-engineer fully welded product into a knock down system
Central location suitable for worldwide logistics
Current Operators of our OEM Parts Fabrication:
Pret A Manger UK
Pret A Manger USA
Pret A Manger France
Pret A Manger UAE
Carl's Jr.
Electrolux Commercial
KFC
Galvin Engineering
Kelloggs USA
Huono
Coles
Costa Coffee
Yum
Woolworths
Moffat
OEM Fabrication Case Studies: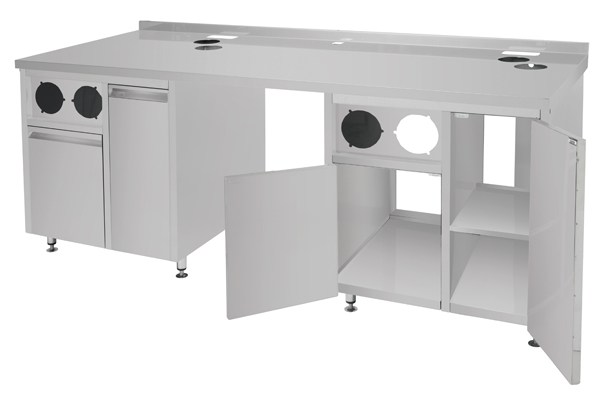 Design Request: DW inlet & outlet tabling system Simply OEM Advantage: Cost reduction from original with improved product strength. Application: Commercial scullery environments.1 Distribution: SE Asia.
Design Request: FOH & BOH Stainless Steel
Simply OEM Advantage: Re-engineered fully welded design into a knock down system.
Application: Full kitchen service.
Distribution: Worldwide.
Design Request: Mobile food transport cabinet
Simply OEM Advantage: Strengthened existing design with significant cost reduction.
Application: Mobile food service transport.
Distribution: United Kingdom.
Design Request: Oven Stand
Simply OEM Advantage: Re-engineered a fully welded design into a knock down system.
Application: Combination oven stand.
Distribution: India.